InterprofessionalResearch.Global at the Collaborating Across Borders VII Conference "Crossroads of Collaboration", Indiana announced prestigious InterprofessionalResearch.Global Research Awards named after three incredible World-renowned Interprofessional Education and Collaborative Practice (IPECP) Leaders:
The Barbara Fifield Brandt Award
The Hugh Barr Award
The John H.V. Gilbert Award
Dr Hossein Khalili, Co-founding Lead for InterprofessionalResearch.Global presented Barbara, Hugh and John with Distinguished Global IPECP Research Award plaques at the conference in recognition of their many years of contribution, development, passion research, support and commitment to IPECP.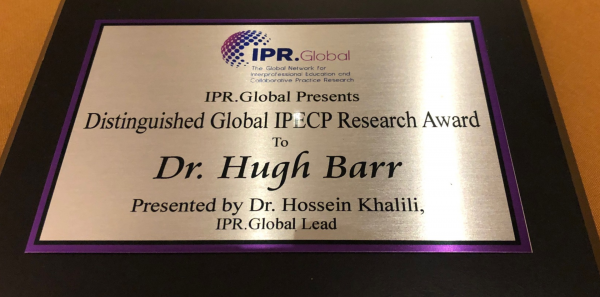 Congratulations from Interprofessional.Global to Barbara, Hugh and John for this global recognition.
Application for these Awards will open in January 2020 and more information will be available at https://research.interprofessional.global soon.